Are you planning to visit Ireland in the near future and you're trying to make an itinerary? You can find a lot of things in Ireland that are worth visiting, but maybe you don't have the time to go to all of them, so we've put together a list of 5 must-see places to visit. Once you've ticked these off your list, you will definitely want to discover more of what Ireland has to offer.
Cliffs of Moher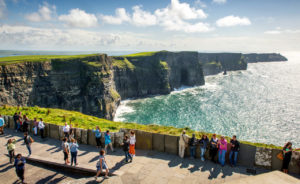 This miracle of nature is located in the region of County Clare and even thought you could say these are only some cliffs and you can see them in every country on the planet, but they are special. They look like they've been just pulled out of a painting by an amazing painter or from a Game of Thrones scene. They are just mesmerizing, rising at 120 metres above the blue waters of the Atlantic Ocean. They go on for about 14 kilometres, but the views from the top are so breath-taking it is totally worth it to go visit them and have a picnic or just breathe in the ocean air for a couple of hours.
Killarney National Park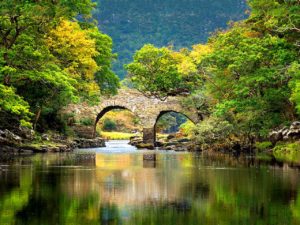 This National Park that is part of UNESCO lies in the Kerry County, and it was actually Ireland's first national park. Having said that, you can imagine it's perfect for a walk and very well kept. One of the main attractions in the park are the red deer that you can spot roaming freely. It is also home to O'Sullivan's Cascade, which is impressive in its beauty. It would be just the place for a nice walk alongside the Owengarriff river.
Dublin
When you say Ireland, the first thing that comes to mind is Dublin. Or is it a second, after beer? Either way, Dublin is the place to be if you want to experience Ireland's nightlife or even discover the city on day light. Two of the attractions that are a must see in Dublin are The Guinness Brewery and the Little museum of Dublin, where you can discover the city's history and taste some strong, classic Guinness pints. 
The Ring of Kerry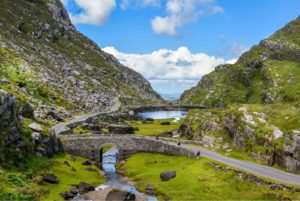 The actual name of it is Iveragh Peninsula, and it is part of a virgin region of Ireland, boosting some amazing beaches and scenery that attract lots of tourists every year. It's true, in the past few years there have been a buzz around this area of Ireland so the possibility of being just you and the beach is less and less possible. It is also the best place to go if you like water sports, like kayaking, or if you like to fish, as it has some of the freshest salmon and trout.
The Rock of Cashel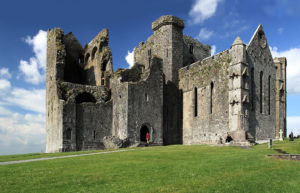 The last one on the list is The Rock of Cashel, which is also known as St. Patrick's Rocks and Cashel of the Kings. It is a castle founded in the 12th century. It has a tower of 28 meters that is made of pure rock, just like the rest of the construction. The hill where the castle is based makes you feel like you are climbing towards the sky, in the clouds. It is a very green and beautiful place to go to and taste a bit of Ireland's history.
Now all you have to is book your flight and pack your bags, because it looks like you're going to visit 5 of Ireland's best attractions. Have fun.